This is a question you probably haven't asked me, even in your head. I thought I'd pre-empt the question. The quick answer is: I'm not. I don't "teach" Science or Maths subjects. I do head up the Technology Department at St James College, and teach Media and PhotoJournalism, Engineering and Design along with my DigiTech load.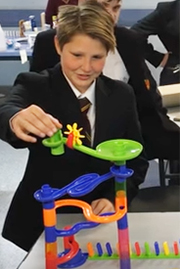 But I am qualified, because I am curious. I want to improve myself as a teacher. I spend a great deal of time taking mini-courses, listening to podcasts and reading articles. It gets me into trouble. It gets me editing email STEAM reports.
I am a secondary teacher, teaching Year 7-10 at a Catholic Boys' College. I have taught at a P-10. I haven't taught VCE. I have taught VET Creative Industries and Information Technology.
The most exciting part of teaching at St James College is Leadership's willingness to let me try things. When I arrived at the College, my favourite subject was Engineering and Design (ED). Bernie Bell had put the course together to combine Maths, Technology and Science with basic Engineering using Lego RCX to solve problems such as how much weight can a Lego robot pull across the room (it's a lot) or how fast can a Lego robot travel over 2 metres.
That's STEM. That was 2008. Since then, I have followed Bernie's lead and tried to make ED a place where the boys can experiment, fail, try again, extend themselves and be proud of what they achieve. They run experiments in force and acceleration. They record and graph results. They create mock-ups of space stations in 3D. They recreate famous artworks using Maya.
I'm also not qualified. I don't teach Science. I have a really hard time conceptualising a lot of Maths ideas. I can tell a driving gear from a driven gear but my definition of torque changes every time someone asks me what it is. I would love it if Lego robotics was taught in Science. If the graphing and data analysis was taken up by Maths, using the information gained in the Science experiment. If the Humanities and Art departments ran 3D modelling sessions and asked the students to sculpt in the 3D software or recreate an accurate trebuchet.
Let those who can, teach. Let me teach those teachers.
It is happening. The feature article in this issue is an interview with our Head of Science. He has been running a Rube Goldberg machine building unit for the past couple of years. He sends boys up to my office to steal my Lego kits. It looks fantastic, and there is video footage on YouTube (check out the article).
But there is also a lot more left to do. The other article I want to draw your attention to explores the way IT is actually reducing the effectiveness of our students. I see these articles pop up on a regular basis and inevitably, one of the teachers at school will point at it and say to me "See? This is why we need to get rid of iPads/computers/killer robots."
I could just say "But I like the killer robots!" but my solid belief is:
The technology isn't the problem.
Well, the killer robots might be the problem. The iPads aren't the problem. The way we use the iPads is definitely a problem (read Ben Lawless' article in this issue). You can't just make every student and teacher buy an iPad and then expect everyone to be an expert.
It is teachers using technology ineffectively that is lowering the nation's IT skills.
It is education departments requiring teachers to be proficient in technology without ever providing them the time or resources to become proficient that is the problem.
It is schools proving a few days of professional development on iPads/electronic whiteboards/killer robots (no, stop it!) when they are introduced and then assuming every teacher is an expert.
It is iPads as babysitters and teachers saying "the kids are so much better at technology than I am" and tokenism and administrauma and every other buzzword that basically boils down to:
Teachers aren't Time Lords. We don't have an infinite amount of time. We have to prioritise.
So I own any ineffective teachers. There are no such thing as bad team members. There are only bad leaders (I picked that up from Steve Brophy's Design and Play podcast). It is my job to find the value in Digital Technologies for the other teachers. It is my job to find the resources that will help my staff become more effective. It is up to the leadership to ensure that staff have the time to fully embrace the skills they will need to be able to support effective learning over the next few decades.
You know, after I finish this editorial and stop the killer robots.
Finally, and as always, we also have this month's news and events article. I've collected some interesting reading and activities for you, as a thank you for clicking on the links in your email instead of adding me to the spam filter. Enjoy.
Damian Perry
Editor The STEAM Report
damianperry@yahoo.com.au