Everything. Everything's new. STEAM is innovation. Think what the steam engine did for society! We're going the same way. But specifically, the year has already gotten off to a huge start with events and news that is positively STEAMy.
DATTA Vic Design and Technology Week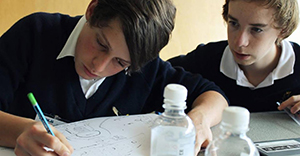 The Design and Technology Teachers Association have announced their first Design and Technology week. Running from 16-22 October this year, it is designed to showcase work from teachers and students around Australia. Check out the website for more information and to sign up.
The ACER STEM Video Game Challenge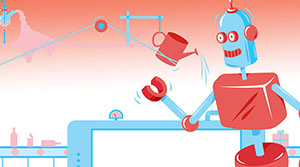 I've just signed my Year 8 students up to participate in the STEM Video Game Challenge. This has been running in various forms since I started going to IT conferences. This year, the theme is REACTION. It allows students to create games that react (OK, I'll stop now) to the theme in some way or another.
Possible ideas they presented were: Reaction Time; Allergic Reaction; Chain Reaction; Emotional Reaction; Chemical Reaction.
As you can see, this is the perfect STEAM-powered activity. Students work in teams, with a teacher mentor, to create a game that showcases their chosen reaction. They can choose their game type, and are only limited by the technology they have access to and their own drive and imagination.
The competition is open now, and runs through until August, so the sooner you can get your students involved, the better they will do. I got around the assessment problem of having a competition run through two semesters by having my first classes create the prototype and plans for the competition which will be marked. Then, if they are interested in continuing, they can work with me in an extracurricular capacity to get the work submitted.
Day of STEM


I've only recently discovered Day of STEM. I suggest that you go to their page and sign up immediately. But to help you make up your mind, here are two very exciting programs for anyone interested in STEAM (and STEM):
Women in STEM is a program for girls interested in STEM careers. Industry professional female mentors from top Australian companies will present to the students during an interactive day full of activities and experiences.


The Optus Cyber Security Experience sounds like a lot of fun. It's an interactive experience where students are responsible for trying to solve a cyber-security issue. I have booked my students in for the end of term. Find out more.
Speaking of Women in STEAM…
You should be getting excited by Hidden Figures - a new film directed by Theodore Melfi. It is the story of a group of female African-American mathematicians involved in the space program during the 1960s. On one hand, it does have Kevin Costner in it, but on the other hand, it is an excellent endorsement of Maths, Science and Technology and lionises these occupations. More importantly, it is an incredibly entertaining film. Find out more.
The 3D Printing Systems newsletter
I subscribe to all of the newsletters tthat you don't have to, but this one is always entertaining. Sign up at http://3dprintingsystems.com/. However, until you do, here's what you're missing:
Boeing is creating a Starliner to take civilians into space. Parts for the craft are being 3D printed in plastic rather than metal. Given how some of my print jobs turn out, I'd be a little worried, but it is an exciting development.


Caltech has created a Bat-Bot (sounds like something out of a DC movie) that mimics the flight of a real bat. So when the robots take over the world, look out above!
That's it for the big stuff. There will be plenty more as the year progresses. Email me with any news you think should be included. Everything above has come from one email or another, so having more sources of information can only be a good thing - at least until I can get those spy drones working properly.