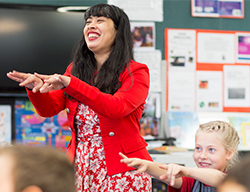 Results of the Commonwealth Bank Teaching Awards Survey show that Australian adults think that Maths (80%) and English (82%) are the most important subjects that children should be learning with two-thirds (69%) believing that technology is the most important subject, ahead of science (56%).
The research was released for the launch of the 2018 round of the Awards by the Bank and Schools Plus.
All of the Teaching Fellows wished critical thinking was a bigger part of the curriculum when they were at school
Two-thirds of respondents wish technology, including coding, had been taught when they were at school
Communication (77%, problem solving (77%), critical thinking (63%) and relationship building (63%) are the top skills Australians think students should be learning.
Nominations are now open for the 2018 Fellowship Awards. Twelve will be awarded valued at $45,000 each, this includes $10,000 for the recipient's professional development and $5,000 for participation in a 12-month fellowship program that includes a study tour to Singapore. In addition, each winner's school will receive $30,000 to fund a project designed to improve student performance and wellbeing.
The Awards are open to all registered teachers and school leaders of years kindergarten to Year 12 from all Australian schools and Teachers and school leaders working in schools in disadvantaged communities are particularly encouraged to apply. An applicant should currently be practising as a teacher or school leader and to the best of their knowledge should intend to continue teaching in the same school in 2018.
Nominations are open now at https://teachingawards.com.au/ and close on 12 October.