If you want an immersive STE(A)M experience the STEM garden at Quantum Victoria is a very literal example.
Quantum Victoria is a Centre of Excellence and Innovation devoted to STEM and is co-located with Charles La Trobe P–12 College at Macleod West (Victoria).
Its STEM Garden, where students congregate at breaks and for informal learning sessions, is designed create an atmosphere conducive to technology and science learning. It locates students within a playful environment using scientific concepts like formulae and illustrations of chemical structures as design elements.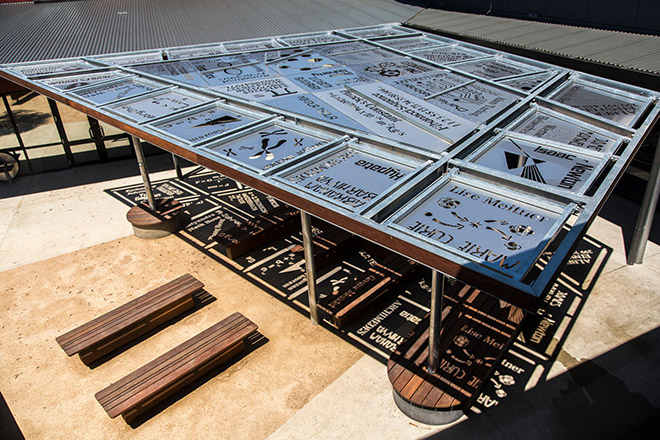 The 'shadow pergola' uses cut outs of scientific ideas, formulae and concepts to form its roof. As the sun shines through shadows are cast which immerse the area below and whoever is there in images of the STEAM disciplines.
Bordering the courtyard, individual panels hang between steel frames which sport cut outs of other scientific concepts. The cut outs were made from lightweight sheet which were designed to develop a rusted patina over time.
The space intends to accommodate about 75 people who can find seating on benches made in the shape of the E = Mc2 equation.
It's a nice piece of design thinking that attracted the attention of the judges from the Learning Environments Australasia awards for 2018, winning designers Ochre Landscape a commendation in the Landscaping/Outdoor Learning Area category.
Quantum Victoria itself aims build STEM capabilities in all students and has aligned its programs with state and federal government initiatives.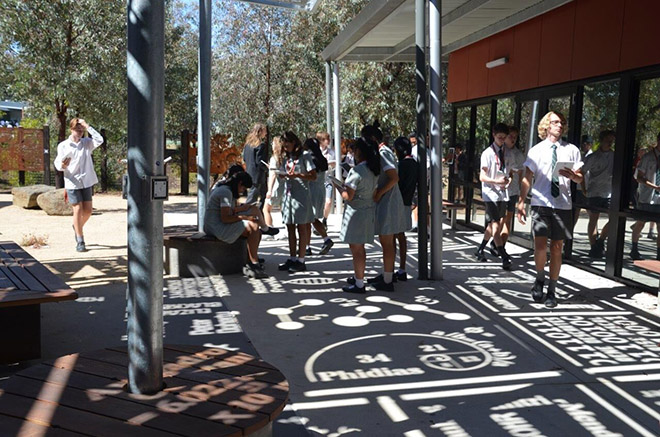 It prioritises student participation from disadvantaged and underrepresented cohorts and their gender inclusive programs promote women in STEAM disciplines and raise the profile of women in STEAM pathways which provide role models for all students.
Quantum Victoria looks to increase students' interest, participation and engagement in science and mathematics and orients students to pursue careers in the STEM disciplines
The facility develops the knowledge and skills of teachers as well through targeted programs underpinned by research and pedagogy.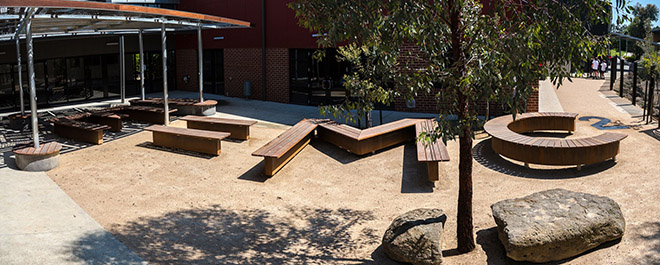 Programs are comprehensive and are based on scientific inquiry, building resilience through productive failure, game-based learning, 3D printing and modelling, coding and arduinos, gesture-based computing, robotics and engineering, virtual reality and simulated experiences and scenario-based challenges.
The Centre has been recognised nationally and internationally as a leader in 3D printing education and cyber security.
Quantum Victoria's professional learning opportunities include Best Practice Workshops, 3D Printing and modelling experiences, coding and digital technologies and state wide conferences in partnership with the Science Teachers' Association of Victoria.
Soula Bennett is Quantum's Director, she is the President of the Science Teachers' Association of Victoria (STAV) and brings over 25 years of leadership and teaching experience in the physical sciences and mathematics to her role. She is a member of the Victorian Tech Schools Advisory Panel and the Australian Science Teachers' Association Board and contributes to STEM education policy both at the state and national level.