For a country that doesn't have a lot of people, Australia routinely punches above its weight in professional sports; rugby, soccer, tennis, MMA and increasingly basketball and gridiron all have a strong if unlikely contingent of Aussies.
F1 is another one; we've always had a big presence among the drivers and our mechanics and engineers are known to be top drawer.
The go carting competition has been the traditional pathway into the driver's seat and while the route to other jobs in F1 can be more circuitous, the F1 in Schools competition is one in for anyone that wants to get amongst the pit crews, engineers and the support staff who play an essential but lower profile role in F1's ability to run.
The F1 in Schools competition has been around for years now with entrants participating in any of the jobs that a real F1 team offers and guess what? The Australian kids are rather too good at it.
In teams of five, students use industry-standard software and equipment to design, manufacture, test and race miniature F1 cars capable of reaching 80 km/h. The teams also have to project manage, budget, create marketing campaigns, manage the internet and social media presence, find sponsors, complete portfolios and make verbal presentations.
In its first year participating in the competition a team from Melbourne's MLC (Methodist Ladies' College), Xeno Motion, has managed to make it to the world finals in Singapore, having competed successfully in the Victorian finals and then the nationals held in Tasmania.
MLC fielded three teams in the Victorian leg, placing 1st, 3rd and 4th and were the only girls-only teams to compete.
"We are always looking for new and innovative ways to engage the girls and give them authentic learning experiences," says Kevin Lugg, Art and Design teacher at MLC and the program coordinator.
"Through the requirements of the F1 program, they have learned and effectively used social media platforms to promote their brand, engineering CAD software to analyse and design their miniature F1 racing cars, graphic design software to create marketing materials, spreadsheets to manage their cash flow and collaboration tools to manage their project and team. The students benefited from this program immensely."
Having won their State Final and standing out at Nationals in Tasmania, Ingrid Wanata, Katrine Shi and Annabel Sutherland from team Xeno Motion were invited by judges to form a combined team with three boys from Haileybury (Melbourne) for the finals competition in Singapore.
"This means their car will need to be designed from the ground up due to the extra regulations surrounding the professional class," says Lugg. "As a collaboration team, they will also need to start from scratch developing a new brand with a new team name, logo, colours and marketing materials."
The team, recently choosing the name Entene, will visit Singapore in September. Though getting there was impressive enough, should they manage to place it will be exceptional given that the competition involves over nine million students from 31 nations.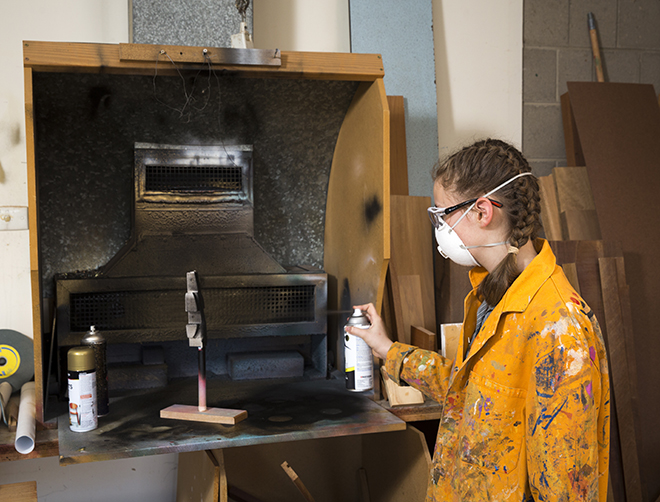 The ante will be upped again, standards will be higher, regulations stricter so Team Entene will have to lift its game.
Tasmania was a fun, if intense, experience for the Xeno motion team.
"We were stressing a bit but we presented the verbal part of our presentation and set up the pit display and on the next day we raced," says Annabel Sutherland, Xeno Motion's Manufacturing Engineer.
The racing went well and the MLC team won its events only to be reeled in by the stewards.
"It was the fastest car in the competition but unfortunately there were some regulations which we unintentionally broke which meant we had some time taken off our results, which eventually put us in 9th place," says Ingrid Wanata the Team Manager and Graphic Designer. However, with each level's competition, the girls pushed their skills further.
"The judges gave us feedback, so we took that on each time and changed the car and our research," says Annabel.
At national level, Xeno Motion won Best Graphic Design and Outstanding Industry Collaboration which recognises the team that best handled interaction with companies, sponsors and suppliers. Collaborations included mentoring and workshops with Ford engineers and 3D Systems digital manufacturing. They were also the only all-girls team in their competition class and one of only two all-girls teams overall.
"The way we branded our team, our general energy and the way we set up our pit design won us the Best Graphic Design Category," Ingrid Wanata says.
It was Haileybury's first season in the competition as well and the school's Ignite Racing won awards in all areas of the competition but stood out in their engineering design process, knowledge of CAD and overall project management. The team was awarded the F1 in Schools National Champions, Best Team Portfolio, Best Team Marketing, Best Managed Enterprise Fastest Car and Best Engineering CAD.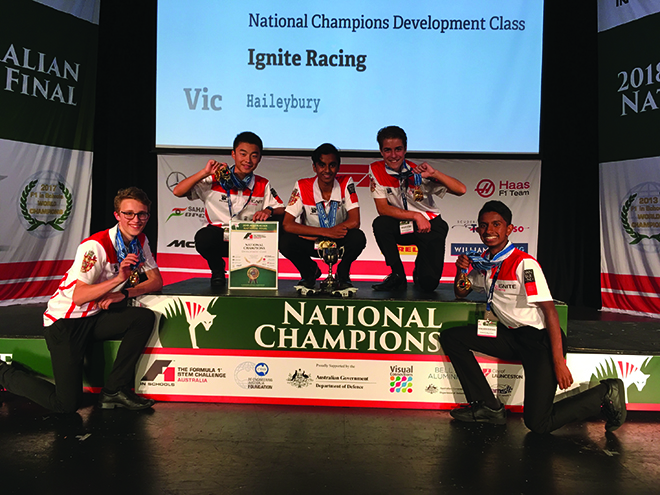 The F1 in Schools program is introduced to Haileybury students in the Construction elective at Year 8, where they compete across the four campuses. Students can then elect to continue the program as an extra-curricular activity, they meet regularly on Thursdays and then organise to meet outside of school hours.
Haileybury students take the lead in the program while the school provides access to its facilities. Each F1 in Schools team has a Team Leader who is responsible for organising meetings, meeting locations and equipment needs, as well as overseeing all project elements. The teams are supported by Haileybury staff who facilitate and guide student-led programs.
"Our goal is to engage students in STEAM from a very early age, involving students from Early Learning to VCE in opportunities that extend not only their discipline-area knowledge but also explicitly teach them the skills required to be a collaborative team-member, to be empathetic and to generate ideas that serve to improve the lives of communities across the globe," says David Simpson Head of Middle School Science, Haileybury.
"They are provided with access to real-world technology such as 3D CAD/CAM/CAE engineering design software and soon become proficient in areas such as Coding, Computational Fluid Dynamics and detailed Physics studies. While the competition has a primary focus on engineering, its true value lies in fostering communication, collaboration, creativity and critical thinking.
"As a consequence of success in the program, many of the students are offered opportunities in the engineering vocations, including Airbus and Formula One Teams," he says.
The F1 in Schools program is one of many available to Haileybury students. Senior School students are exposed to specialised experiences that connect them with higher education institutions. In 2018, a group of Haileybury's students are working closely with Swinburne University to investigate sending a fully functional satellite into space.
The school has a focus on supporting women in STEAM programs, connecting with groups such as SheFlies and CubeRider – both programs are run by strong female role models that seek to engage female students with STEAM careers. Haileybury regularly invites STEAM professionals to share their experiences and expertise, exposing students to potential career paths in the field.
"Haileybury's focus is on providing a flexible STEAM program that is adaptive to student voice and choice. It was decided early in our program not to treat STEAM as an 'add-on' but to integrate it deeply within our everyday practices.
"While we value the STEAM disciplines individually, we are particularly interested in enabling students to utilise the skills from each area in a holistic way that will benefit them in whichever pathway students choose to follow," says Simpson.
The new, combined team between MLC and Haileybury will start work in the upcoming weeks to prepare for the World Finals in Singapore in September. Foundation work includes designating team roles, a new team name and a new logo and graphics.
They will now compete in the Professional class, rather than the Development class alongside two more Australian teams.