There are books and websites out there that can tell you how to do stuff. Our goal at The STEAM Report has always been to give you the same information in half the time – lunchtime reading with a checklist to follow up on.
For my first How-To, I want to introduce you to the wonder that is Twitter. I have been on Twitter for almost ten years. I have three accounts – one for personal use, one for professional tweeting and one for St James College. I'd love for you to get in touch with me on: @puterhead ( http://www.twitter.com/puterhead )
But apart from stalking me online, Twitter is a beautiful place to join a network of likeminded educators. There are many Professional Learning Networks (PLNs) that deal with different curriculum areas and teaching levels. We use groups and lists and hashtags to find our collection of valuable colleagues and then we can filter them away from the Trump tweets and wise words from the Pope.
Here's the drill:
1. Sign up
Go to twitter.com/signup and give up your name and email address.
Choose a nickname (like @puterhead) that you won't be embarrassed to put on your business card.
For now, the SKIP button is your friend. You don't need to give Twitter your phone number, or any further information until you know your way around.
You don't even need to follow anybody yet, but Twitter gives you some recommendations based on who is popular:
You'll need to verify your email address, and you can spend some time filling out your profile if you want, but at this point, you're officially part of the Twitterverse.
2. Find someone to follow
If you're going to use Twitter on a regular basis, you should find some accounts to follow that you'll want to check up on. You can keep this purely professional, but really, do you want to miss out on the next cofveve?
When you "follow" someone, you will see their Tweets on your timeline. Here are a few inspirational and entertaining Twits you might want to Follow:
Donald Trump – it's like a train wreck involving the ENTIRE PLANET.
Weird Al – hilarious and prolific
God – because if he's truly omnipotent, he'll know if you don't follow him
Random Facts – you'll be amazed at what you don't know
The QI Elves – if you've seen the TV show QI, you'll know that this is worth looking at
The Onion – hilarious and cutting satire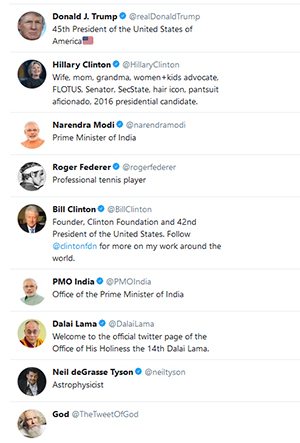 3. Find someone Educational to follow
Ok, but you're here because I promised you educational brilliance. Here are some of the phenomenal teachers I follow when I want to know something about anything. I will be profiling these stars of the school over the next however many issues of The STEAM Report, so stay tuned:
4. Follow a hashtag
Hashtags are the core of Twitter and are scattered through the speech of anyone born after the year 2000 (and anyone who has to deal with those people on a regular basis). #yolo and #fail are probably already in the English dictionary (but yolo isn't a valid choice for Words with Friends).
You can search for hashtags and click on them within Twitter to go to other tweets using the same hashtag. Tags such as #ilovepandasespeciallywhentheysneeze are less likely to have other tweets attached to them. #280characters is one of the most popular at the moment as people fear or embrace change.
Some tags you should keep on your regular searchlist:
#VicPLN (if you're Victorian)
#edtech (or #edtechsa #edtechnz etc)
#stem (#STEAM will give you more on the game company than education)
#coding
If in doubt, search for it. You don't actually need the hashtag to search, but the software looks for it when translating the tweets, so you should use it when posting.
5. Create some lists
I have lists for famous comedians. I have lists for teachers. I have lists of people trying to sell stuff to me. Putting together lists allows you to filter out the rubbish and focus on the educational goodness (or all of the people who tell good puns).
When you find someone you want to follow, pop them in a list, so that you can keep them organised in your spheres of interest.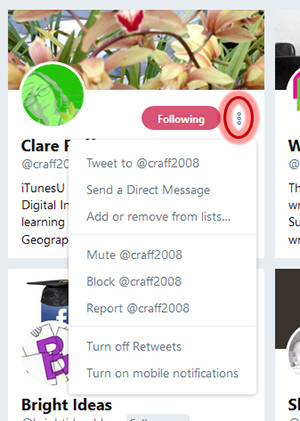 Here's how:
Click on the person's handle
Click the "more user actions" (three dots on a regular browser, the little cog on iOS – see pictures) and add to a list. If you don't have a list, it will prompt you to create one.
Once you have your lists, you can view them by clicking on your profile picture. This way you're only seeing tweets from "Teachers", or "STEAM experts", or "tech-savvy deities"
With hashtags mastered and Lists sorted, there's only one thing left to do:
6. Tweet
There's no need to Tweet if you don't want to. You can use Twitter as a news source without getting involved in the conversation. Just remember a few things when you decide to delve in:
The wrong tweet can get you sacked.
If you have more than one account, remember to tweet school stuff from the school account and personal stuff from the personal account.
Deleting a tweet doesn't mean that someone didn't take a screenshot of it.
EVERYONE can see your tweet AS SOON AS YOU PRESS POST.
#QandA is the best way to get your name on television on a Monday night.
As I said, this is a quick-and-dirty instruction manual. There's much more to know about Twitter, but most of it you can find out about on Twitter. Or ask me: @puterhead