Cyber education is in its infancy in Australia. Few in education know what Cyber education is and how it links with national STEM strategies and the Curriculum Digital Technologies. There are misconceptions and knowledge limitations. For example, the misunderstanding that cyber security is confined to cyber safety or that the term 'hacking' is understood to be a 'black hat' criminal activity. Many are unaware of the 'white hat' computer specialist who develops software, protects systems and networks through testing and assessing security systems; white hats are employed to exploit vulnerabilities for small local SME's up to larger global corporate companies.
Recently Australian universities have been invited to be recognised as Academic Centres of Cyber Security Excellence (ACCSE) with an objective to produce the next generation of highly skilled Australian cyber security specialists. Universities will work with the Australian and global cyber security organisations to build Australia's capacity to engage productively, driving economic growth, innovation and technology.
Crucial to securing Australia's economic future in this fluid dynamic landscape is the need to quickly consider and implement inclusive cyber knowledge and skills in the Australian curriculum. Importantly schools, universities, tertiary providers and industry must work together to be effective in meeting these challenges.
One Day of STEM program focusing on Cyber is the Optus Cyber Security Experience.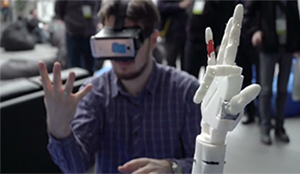 Day of STEM Program 4 provides an insight into the careers of the future in Cyber Security. There are news items everyday about Cyber ministerial policy, Cyber events, smart devices, smart cities, and smart people.
There have been unprecedented scale of security breaches this year. Do you know?
the impact of Wanna Cry?
that compromised internet connected domestic security cameras shut down the east coast of the USA for 8 hours?
that drones can to bring down large network systems?
that bad actors have breached Yahoo's customer email accounts?
that recent state-sponsored Russian hackers muscled in on the US election?
The Optus Cyber Security Experience provides many career insights into the roles of Cyber Security lead by real Australian industry mentors. There is an exciting game based learning activity to put students in the driver's seat in the current Australian Security Operations Centre involving students in a drone simulated attack.
Cyber Victoria Schools Challenge
Philip Dalidakis, Minister for Small Business, Innovation and Trade, recently announced a 'Call to Action' for Victorian schools and tertiary institutions to register students and complete the Cyber Security Experience. The Victorian Government will award the schools and tertiary institutions with the highest rate of participation.
Student and teachers can get involved, win prizes and build their confidence with Cyber security skills linked to innovation and technology. Go to Cyber Victoria Schools Challenge and sign up to be part of this important initiative offering teachers online free professional development and students' new understanding and skills in Cyber.
The Day of STEM
The Day of STEM is a national initiative designed to raise the IQ for STEM careers by inspiring the next generation of students through a self-guided, interactive, online STEM awareness experience called LifeJourney. These programs can be undertaken for free by teachers, schools, students and parents anywhere, any time.
The programs are designed to augment the STEM curriculum, giving teachers and students an immersive experience and insight into real world STEM careers that are emerging from the rapid change of technology, big data networks of information and globalisation that brings instant information, communication and collaboration.
The student experience
The Day of STEM empowers students to explore a range of different STEM career journeys through real-life professional mentors. Students build a personalised STEM Resume that outlines their career personality profile, their favourite mentor journeys, the important contemporary skills needed for their preferred journey, a career roadmap and their accomplishments on the program. The program culminates with an interactive virtual excursion that explores a specific area of STEM.
The teacher experience
The Day of STEM provides real-world examples of where STEM curriculum applies to future careers and makes connections for students to realise the potential of their course studies. As students continue to learn the Digital Technologies curriculum it's important for educators to illustrate the links to career pathways. Each teacher is provided with an instructor dashboard to help track student use and progress.
To join the Day of STEM:
Head to dayofstem.com.au and Click sign-up
Select the Day of STEM program under the "Sign Up" Tab
Click on 'I am registering for the first time'
Complete the registration form and tell us how many students are involved
Follow the email prompts to register to confirm registration, followed by an email for activation
Login to your Instructor Dashboard. Give your students the registration key
Nominate a date for your class to run Day of STEM
Run the Day of STEM Experience!
Provide feedback from your students
Inform Day of STEM of your experience to share with colleagues and to be highlighted in the Day of STEM eNews.
Current program offerings (Each program takes ~ 45 minutes)
Collingwood STEM Cup Maths based challenge focused on careers in Sports Science, IOT and Data Analytics
South Sydney STEM Cup Maths based challenge focused on careers in Sports Science, IOT and Data Analytics
Australia 2020 Focus on careers in Innovation and IT
Women in STEM Leading women of IT
Optus Cyber Security Experience Program focused on careers in cyber security.
Renee Hoareau and Pahia Cooper can assist schools with in-class, co-curricula activities, professional learning or online support.
Renee Hoareau Director Education and Engagement
e renee@lifejourney.us
m 61 416 113 924
Pahia Cooper
Program Manager Education
e pahia@lifejourney.us
m 61 427 425 058