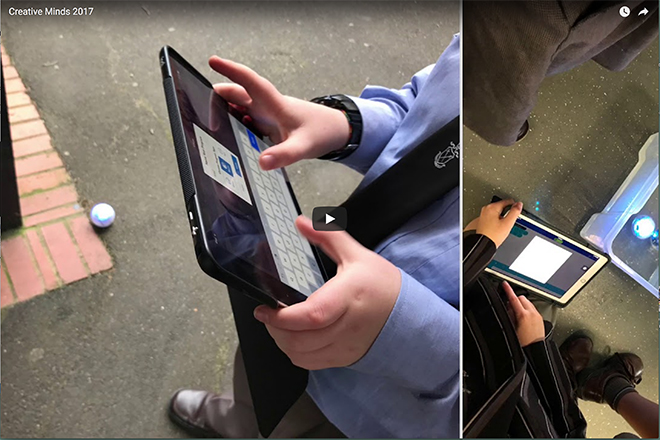 Creative Minds is an after-school program designed specifically to provide Year 3–6 students with STEAM experiences, challenges and dispositions. The program runs at Ivanhoe Grammar School twice a week with Tuesday sessions catering for Year 3–4 students and Thursday afternoons catering for Year 5-6 students. The goal of the program is to create an environment where like-minded learners can learn targeted technology skills through provocation and play. Developed and run by Steve Brophy, Creative Minds has exposed Ivanhoe students to automated Rube Goldberg machines, rapid prototyping using everyday materials, JavaScript coding, robotics and 3D printing and design (Click on the image to see what they're up to).
Creative Minds has a deliberate 'this isn't school' attitude. This is due to the program running at school. To create an environment where students take control of the direction of their own learning and make all the key decisions requires this. Younger students default to the teacher/student roles within the classroom and so Creative Minds needs to shift the agency needle to sit more with the student. Each term, students move from asking permission to set up an experiment a particular way to simply informing the teacher that the experiment is being set up this way. Every experiment is videoed and used by the students to highlight what went well and to target what needs adjustment. Students make a huge shift from "It's not working" to "The marble is getting stuck at the corner and so I need to adjust the ramp to stop this happening". Capturing each performance also then allows students to take successful footage home to share with their friends and families. Each session always finishes with a flurry of Airdropping and high fives.
The focus for each Creative Minds session shifts from week to week. Some weeks it is purely a design challenge and students need to figure out how they are going to solve the puzzle. Other weeks the sessions are more targeted to develop specific areas and understanding such as conditional logic, 3D slicing or circuit design. Targeted teaching is always short burst and frames the rest of the session. The rules of engagement during the sessions are simple.
If you learn something cool, share it and become the expert.
Failing is learning in disguise
Respect everyone's space and things
The program launched at the start of 2017 and has been at capacity every class since. Many students are regular attendees and have developed great friendships throughout the year across year levels. Parents are welcome to attend but have to participate as a learner if they intend to. As well as leading as a learner, parents are also introduced to the curriculum connections and rationale behind the program and behind the school's technology vision. Creative Minds has become a haven for learners and it has helped many learners bust through the ceiling of their own perceived limits.